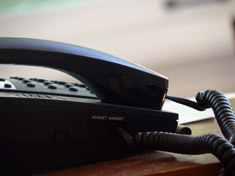 If you've got formal Customer Service training and qualifications, you're an asset to any modern business. An NVQ in Customer Service lets you strengthen the skills you use to do your job, helps you fill in any training gaps you might have and gain valuable qualifications at the same time.
National Vocational Qualifications (NVQs) are qualifications that demonstrate your ability to do your job. There are no formal examinations. The training is mainly on the job and NVQ assessment is directly related to your performance at work
The NVQ in Customer Service is a nationally-recognised programme, designed by employers to meet the needs of today's businesses. You can tailor-make your own NVQ, allowing you to focus on and develop the Customer Service skills that you use most often.
Customer Service qualifications are available from Level 2, Level 3 and Level 4
Level 2 will be suitable for you if you report to and take instructions from a boss or supervisor. Your job role will have some responsibility and may require you to work as part of a team.
At Level 2 you can cover everything from creating the right first impression to using 'active listening' techniques to help you work out what your customers really want, from keeping accurate, up-to-date customer service records to dealing with difficult or dissatisfied customers.
Level 3 will be suitable for you if you use your knowledge and skills to carry out a broad range of complex work activities. You job role will have considerable autonomy or responsibility, and often require you to manage or train others.
At Level 3 you can cover everything from dealing with angry customers to running a customer loyalty scheme, from the legislation that exists to protect customer rights to using customer complaints to improve the service you offer.
The Benefits of an NVQ in Customer Service:
An NVQ in Customer Service lets you show your current employer – and any future employer – that you have reached a recognised, national standard in customer service
The qualification helps you to improve your Customer Service skills so that you become more effective and efficient at work
The NVQ learning programme lets you fill any skills gaps you have quickly and easily while you work
The qualification is flexible. You choose which skills you need to develop to help you in your own particular job and then follow a tailor-made programme that meets your individual needs
Steps to completing an NVQ in Customer Service
Stage 1 – Complete 'Your Work Profile'
This initial assessment explores the tasks you already perform at work to help you to decide which level of award you should work towards and which combination of mandatory and optional units is most suitable for you.  Once you've completed the online questionnaire, your answers are analysed and a detailed report identifies the specific units of the NVQ that most closely match your current role.
Stage 2 – Choose your units
Using the report from 'Your Work Profile', the next step is to enrol on your course and select the optional units that you would like to include in your NVQ learning programme. You should chat to your assessor and to your employer before you make your final choice. This will help to ensure you're developing the right skills for your role.
Stage 3 – Check Your Knowledge
Once you've selected a combination of mandatory and optional units that fits your current job and your future aims, it's a good idea to undertake the 'Check Your Knowledge'.  This short, online tool will give you a better idea of how much learning you need to do in each individual area.
Step 4 – Develop Your Knowledge and Evidence
Develop your knowledge and skills, and produce your 'portfolio of evidence' that shows you can demonstrate your competence in every area of your NVQ. Your Assessor will assess your performance against the NVQ standards as you progress. Once you're confident you have the customer service knowledge, skills and experience you need, and you've passed every unit of your NVQ you will become fully qualified and receive your NVQ certificate.
The course is accredited via EDI