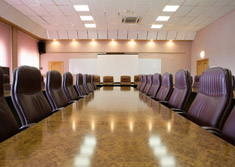 If you've got formal business training and qualifications, you're an asset to any modern business. An NVQ in Business and Management is your chance to learn new skills and gain valuable qualifications at the same time.
National Vocational Qualifications (NVQs) are qualifications that demonstrate your ability to do your job. The training is mainly on the job and NVQ assessment is directly related to your performance at work
The NVQ in Business and Administration is a nationally-recognised programme, designed by employers to meet the needs of today's businesses. You can tailor-make your own NVQ, allowing you to focus on and develop the Business and Administration skills that you use most often.
The "Work Profile" contained within the course will help you choose what to learn, depending on the skills you need to do your job more effectively. You can cover everything from managing business information to embracing diversity in the workplace, from planning your time and your workload to keeping the workplace safe and its information secure.
The Benefits of an NVQ in Business and Administration:
An NVQ in Business and Administration lets you show your current employer – and any future employer – that you have reached a recognised, national standard in business
The qualification helps you to improve your business and administrative skills so that you become more effective and efficient at work
The NVQ learning programme lets you fill any skills gaps you have quickly and easily while you work
The qualification is flexible. You choose which skills you need to develop to help you in your own particular job and then follow a tailor-made programme that meets your individual needs
Steps to
Step 1: Use the "Work Profile" to select a combination of mandatory and optional units that ensures your learning is relevant to your own job.
Step 2: Work with your Assessor to agree a learning plan. You'll identify what you can do already, analyse what learning and skills gaps you have and choose the work-based activities and course units that will help you learn what you need.
Step 3: Complete your learning and gain any different work-based experience that you need for the qualification. Your Assessor will track your performance against NVQ standards while you learn.
Step 4: Once you're confident you have the business and administration knowledge, skills and experience you need, you're ready to be formally assessed for your NVQ
If you wish to study towards this qualification, you should discuss it with us before you start learning.
The course is accredited via EDI